Take a tour of my garden at http://www.youtube.com/watch?v=9F_T3RWafX4
"The first commandment of colour, I should think, is to execute whatever colour
compositions you please, without regard for what appears to be fashionable at the moment". 
-Des Kennedy
*Almost thirty years ago Des and Sandy Kennedy bought eleven acres of woodlands on one of British Columbia's fabled gulf islands, abandoned the relative comforts of professional life in Vancouver, and set to work on an adventure that still seems far from over. Reinventing themselves as bushwackers, carpenters and goat herders, they also became gardeners — initially to supply themselves with fruits and vegetables, then for the shere mad intoxication of it. They were profoundly poor at the time and even more poorly-informed, but blessed with a beautiful site and endowed with the boundless optimism and energy of youth.
Today their homesite sits comfortably on that land in a tiny valley sculpted with gentle slopes. "I'd rather have a hollow than a hill," Des remembers reading in one wise gardening book, and it's true. Their garden comes cascading down a slope, then spills across the little clearing around the house. Seen from below, the vista is one thing; from above, completely another. Inside the startling jungle, another again.
Large conifers surround the clearing – big western red cedars, Douglas firs and western hemlocks. Stunning in themselves, the trees provide a forest green backdrop against which almost any colour combination looks good. The edge of the clearing is feathered with native elderberry bushes, vine maples, salmonberries and huckleberries. Huge bigleaf maples dominate the skyline to the south. The effect is one of enclosure, a condition at the historic heart of gardening.
No matter how charming its particular genius, every site also has its disadvantages. Here the balmy climate — one of Canada's most benign, considered a half-hearted zone 7 — is still far from ideal: torrential rain all winter and searing summer drought are not to every plant's liking. In place of soil, there is a thin layer of gravelly sand underlain by fractured sandstone and hardpan. Water goes through it as through the proverbial sieve. Any loam that's to be found is the product of their hard labours — they've hauled in manure from cow barns and horse stables, raked seaweed from winter beaches, purchased truckloads of fish compost, and made countless compost heaps and leaf mould piles. Thirty years of soil-making have lifted them only part-way from sandy gravel to garden loam.
Sandstone blocks, once unearthed, have been embedded as the bones of the garden. Des and Sandy terraced the hillside by laying up dry stone walls and executed a flight of fancy stone steps down the hill. Thick blocks of stone edge most of the beds and flat slabs make a crazy paving on the pathways. They put in a rock garden with trickling cascade and a stone-walled alcove chiselled into the hill.
The Kennedy's second hardscape component is western red cedar. Using mostly downed logs in the forest, they milled much of the timber for our hand-built house and outbuildings, and split by hand countless cedar shakes for the roofs. They carried the same motif into the garden, using split cedar rails for fencing and for fashioning an arbour that doubles as a deer-proof fence. Some of the paths are cedar bark over plastic. As well, they left a number of big old-growth cedar stumps in the garden as natural architecture. Weathered silver-grey, these big beauties are colonized by mosses, lichens and liverworts that create fantastic miniature gardens that glisten brilliantly in winter. The stump tops are colonized by native shrubs, most dramatically red huckleberry, Vaccinium parvifolium, which they use as a structural component throughout the garden. They've incorporated many native plants — wild aquilegias, Aquilegia formosa, and bleeding hearts, Dicentra formosa, native ferns and broad-leafed evergreens — because they're perfectly adapted to local growing conditions, great for wildlife and just plain beautiful.
"Design" is perhaps too lofty a term for how the garden evolved over time. The Kennedy's divided the enclosed area (roughly fifty metres by thirty metres) into sections — a woodland corner with rhododendrons, enkianthus and the like, under flowering cherries and Japanese maples. A sunny hillside upon which we massed old shrub roses with silver groundcovers for a foil. A rock garden through which a little cascade trickles down to a pool. A hot, dry area for herbs, sempervivums and other small heat seekers. A mixed border for Pacific Giant delphiniums, summer phlox, herbaceous peonies, monkshood and other old cottage garden favourites. An arbour for climbing roses and massed clematis, underplanted with herbaceous peonies and trumpet lilies. A yellow bed where daylilies, foxtail lilies, tiger lilies and California tree poppies can be as yellow as they want. Masses of hostas, Solomon's seal, London pride, ajugas, lady's mantle, hellebores, sedums and hardy geraniums as ground covers. Lots of lacecap hydrangeas and big perennials like Joe Pye weed, filipendula and black snakeroot, Cimecefuga racemosa. They have put in several islands of evergreens to hold us against soggy winters and unite the garden with the surrounding forest. Five white and rosybloom crabapple trees cluster in the lower part of the garden, a new grove of 'Skyline' gleditsia aims to shade the house some day, while a ragged line of Cornus kousa dogwoods rambles up the hill. Big ornamental grasses, heavenly bamboo, Nandina domestica, and fountain bamboo, Sinarundinaria nitida, provide strong accent points.
The Kennedy's like a garden that reflects the reckless fecundity of nature herself, so they encourage a wild profusion of bloom, especially of scented plants to lure in butterflies, hummingbirds and bees. Volunteers are especially useful here, and the garden features successive flushes of self-seeders: forget-me-nots, lenten roses and native bleeding hearts in spring; then dame's rocket, Hesperis matronalis, which the swallowtail butterflies prefer to any flower; biennial foxgloves in pinks and whites to intermingle with delphiniums; next opium poppies, Papaver somniferum, for their cool green foliage and brilliantly blazing blooms; jewelweed, Impatiens roylei, the "poor man's orchid" that the bees love so well; and Queen Anne's lace late in summer, that roadside weed fit for a queen.
According to Des "There's no question it's a great privilege to be given the chance to create a garden of one's own from scratch, especially a big country garden". Knitting the garden into the ecosystem, using native plants and local materials, planting to attract wildlife, practising water-wise gardening and designing the garden in a way that tries to reflect the perfect wild gardens of nature — here is a recipe for ecstasy we could scarcely have dreamed of those thirty short years ago.
* The information about Des' garden is taken from a feature article written by Des Kennedy for Gardening Life – 5 January 1999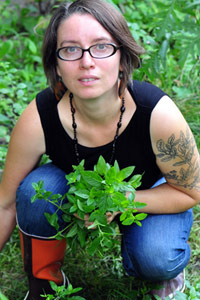 Gayla Trail is a very inspiring gardener,photographer and writer. She created You Grow Girl™   which was launched by Gayla Trail in February 2000 and has grown into a thriving project that speaks to a new kind of gardener, seeking to redefine the modern world relationship to plants. This contemporary, laid-back approach to organic gardening places equal importance on environmentalism, style, affordability, art, and humour. The project's aim has always been to promote exploration, excitement and a d.i.y approach to growing plants without the restrictions of traditional ideas about gardening.
Marie Metke at Honeydew gardens specializing in herbs and heirloom vegetables. This was her first year being open to the public. Her's is a story of perseverance with many challenges to overcome. She had major flooding this year which wiped out her main market garden but she does persevere with great plans for next year!
The Late Lois Hole – former Governor General of Canada
I was fortunate to have heard her speak a number of times and she always inspired me to get the most out of my northern garden. I have most copies of her books –
Any suggestions for gardens you have found to be inspiring? Let me know in the comment box below.